Sphalerite (or Blende)
Sulphide group
Formule chimique :
(Zn,Fe)S
Système cristallin :
Cubic
Etymologie :
From the Greek Sphaleros, meaning "deceiver", in allusion to its confusion with galena. From the German Blender for blende.
Propriétés physiques :
Adamantine to resinous luster. Light yellow to honey colour (for pure ZnS) and brown-black (for iron-rich sphalerites). Translucent (with possibilities of internal reflections). Perfect cleavage (110)
Propriétés chimiques :
Soluble in sulphuric acid with release of H2S. Alteration to smithsonite (ZnCO3) and hemimorphite (Zn4[(OH)2SI2O7].H2O)
Formule chimique :
(Zn,Fe)S
Habitus :
Often in automorphic crystals and also in cleavable and grainy masses. Polysynthetic macles are common. Polymorph of wurtzite and matraite
Gîtologie :
Sphalerite is a typical mineral of mesothermal paragenesis and metalliferous deposits.
Determination :
Difficult
Utilisation :
Sphalerite (or blende) is the main ore of zinc.
On trouve Les plus beaux cristaux de sphalérite proviennent d'Espagne (Mine de Picos de Europa). On peut en trouver aussi au Japon (Mine Ani), USA (Missouri, Arizona.).
En France, on peut trouver de la sphalérite dans de nombreuses localités : Les Pyrénées, les Cévennes, le Massif Armoricain et les Alpes (Mine de la Mure).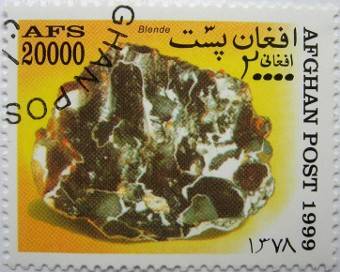 Stamp of Afghanistan from 1999 illustrating a sphalerite (or blende)